As an artisan or craft enthusiast, one of the most significant decisions you'll make is selecting the right platform to sell your work. The internet offers numerous avenues, with Etsy and eBay being two of the leading options. These platforms provide the opportunity for your handmade crafts to reach a global audience, but each has its distinct features, benefits, and potential challenges. This blog post aims to offer an in-depth analysis of "Selling on Etsy vs eBay" – comparing the two platforms and helping you navigate which suits your needs best. So, let's venture into the world of online selling and find out where your handmade crafts could potentially shine the most.
Brief overview of Etsy
Since its launch in 2005, Etsy has become a global hub for creatives, craftsmen, and vintage lovers. The platform, much like a bustling craft fair, hosts unique handmade items, from jewelry and clothing to bespoke gifts and antiques. Etsy has gained popularity among sellers of handmade goods due to its audience's preference for uniqueness and personalization, positioning itself as a community for exclusive products and imaginative individuals.
Brief overview of eBay
Launched in 1995, eBay is a pioneer in e-commerce, initially serving as an online auction platform. Its offering has since expanded to include a vast array of new and used goods across multiple categories. While handmade crafts find their place among eBay's diverse listings, the platform's broad scope means they coexist with an eclectic mix of items. This diversity, similar to a large online flea market, may benefit some sellers, but it also entails competition with a wider range of products.
Target audience and market reach on Etsy vs eBay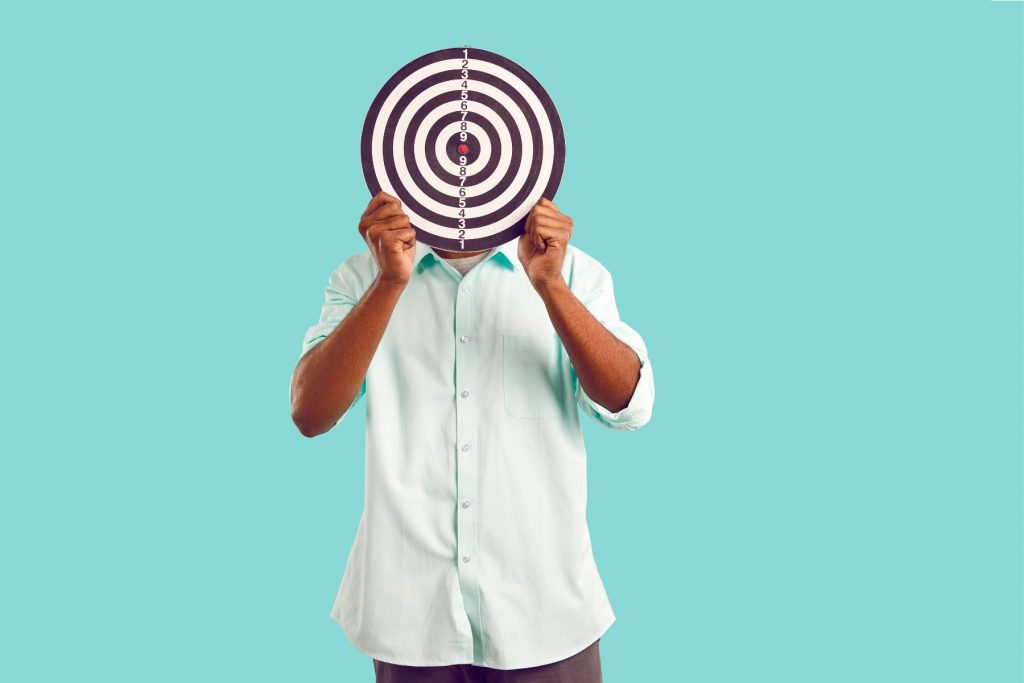 Etsy
Etsy primarily serves an audience that values creativity, uniqueness, and individuality. Customers on Etsy are often on the lookout for handcrafted items, personalized gifts, and vintage finds. This platform is ideal if you're targeting consumers who appreciate the time, effort, and creativity involved in crafting unique items.
eBay
eBay on the other hand, has a more diverse and wider-reaching customer base. Given the wide array of products available on eBay, from electronics to collectibles and everything in between, it attracts a broad range of customers with varying interests. This diversity offers a potentially larger customer base. However, it also means your handmade crafts are competing with a wide variety of other products.
In summary, if you're looking for a niche, highly targeted market, Etsy might be the platform for you. If your goal is a larger, more varied audience, eBay could be a better fit.
Fees and pricing structure on Etsy vs eBay
Etsy
Etsy's fee structure is relatively straightforward:
Listing Fee: Etsy charges a listing fee of $0.20 per item. This fee is applicable every four months or until the item is sold, whichever comes first.
Transaction Fee: Once a sale has been made, Etsy charges a transaction fee of 6.5% on the sale price, which includes the shipping price set by the seller.
Payment Processing Fee: A payment processing fee is also applicable, and this varies by country. For U.S. sellers, the fee is 3% of the total sale price, plus a flat fee of $0.25 per transaction. For most of the EU, the fee is 4% of the total sale price, plus a 0.30 EUR flat fee.
Note that all fees are applied to the shipping price as well.
While these fees might seem relatively small, they can accumulate and significantly affect your earnings, particularly for sellers of lower-priced items. For example:
If you sell a $3.00 item you will have to pay $0.20 as a transaction fee, $0.34 for payment processing, and $0.20 for relisting. This amounts to $0.74 in fees, or almost 25% of your sale price.
If you sell a $30.00 item you will have to pay $1.95 as a transaction fee, $1.15 for payment processing, and $0.20 for relisting. This amounts to $3.30 in fees, or about 11% of your sale price.
eBay
eBay's fee structure is a bit more complex:
Insertion Fee: When you list an item on eBay, you're charged an insertion fee. The first 250 listings per month are usually free, and beyond that, the cost is $0.35 per listing.
Final Value Fee: If your item sells, you're charged a final value fee. This fee is a percentage (ranging from 3% to 15.00%, with a maximum cap) of the final sale price, including shipping. For most categories the fee is 13.25%. If you are selling jewelry or women's bags the final value fee will be 15%.
Optional Listing Upgrade Fees: Sellers can choose to add upgrades to their listings (such as setting a reserve price, larger images, or listing in multiple categories), which come with additional fees.
International fees: Additional fee which is applied for sellers that are registered outside of the US. This fee can range from 1.2% to 3.3% and is applied on top of all other fees.
Some of these fees can be slightly reduced if you get an eBay store subscription. However, the cost of such a subscription ranges from $7.95 to $349.95 per month.
Let's apply eBay's fees to the examples above:
If you sell a $3.00 item you will have to pay $0.70 as a final value fee and $0.35 insertion fee. This amounts to $1.05 in fees, or almost 35% of your sale price.
If you sell a $30.00 item you will have to pay $4.28 as a final value fee and $0.35 insertion fee. This amounts to $4.63 in fees, or about 15.5% of your sale price.
All in all, eBay's fees are more complex and generally significantly higher than Etsy's.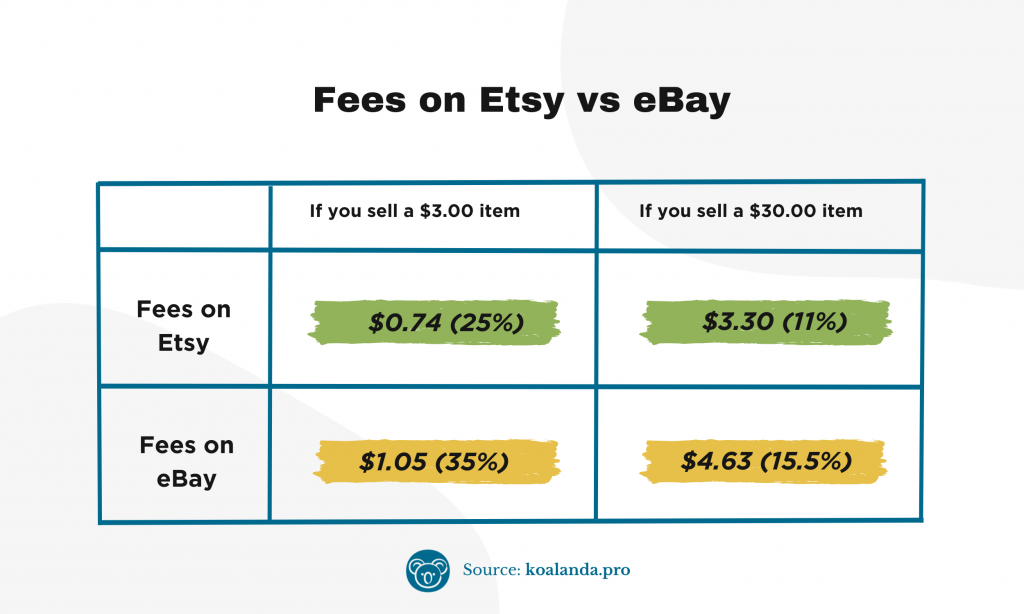 Advertising opportunities
Like it or not, advertising is an important part of every business model. Running an Etsy or eBay store is not an exception.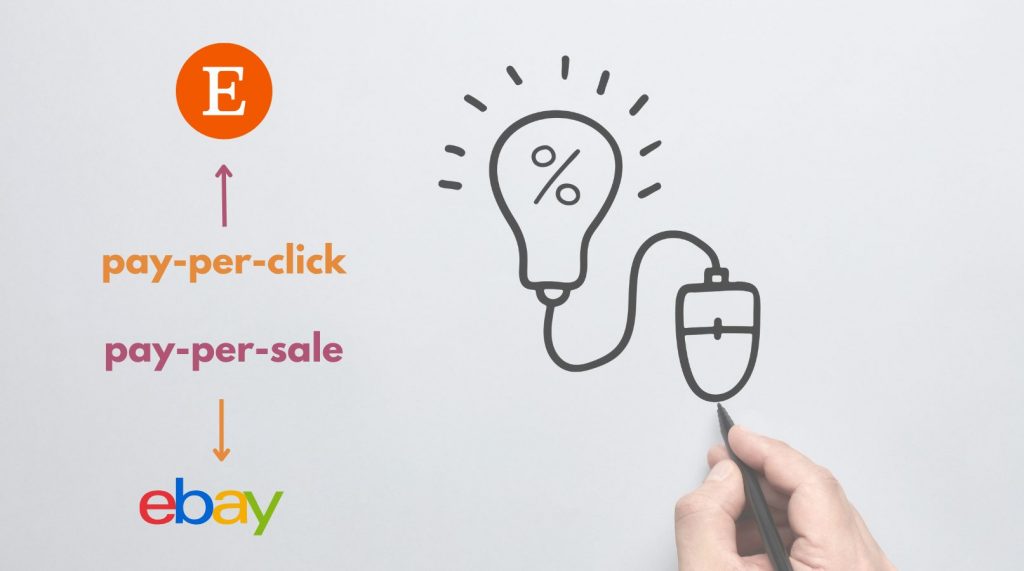 Etsy
Etsy offers two types of advertising.
Etsy Ads – This feature allows sellers to pay for their listings to be promoted in various locations throughout the site and app. By establishing a daily budget, sellers can ensure their listings appear in Etsy search results and other pages, thereby enhancing visibility. Etsy uses an algorithm to display these ads based on relevance and the seller's set budget. Etsy Ads operate on a pay-per-click model, meaning cost is incurred only when someone clicks on an ad. The cost of a single click typically ranges between $0.20 and $0.50.
Offsite Ads Etsy also automatically enlists sellers in its Offsite Ads program. Through this program, Etsy promotes sellers' items on various platforms including Google, Facebook, Instagram, Pinterest, and Bing. The payment model here is pay-per-sale – sellers only pay if an order results from an ad. The cost lies between 12% and 15% of the final price and is applied on top of all other Etsy fees.
For a more detailed exploration, you can read our dedicated article on Etsy ads.
eBay
eBay's primary advertising tool is known as Promoted Listings.
Much like Etsy ads, the objective of Promoted Listings is to amplify the visibility of certain products by positioning them in prime spots on the site. However, the payment model differs. It's a pay-per-sale approach, but with a unique twist. With Promoted Listings, eBay deducts a fixed percentage from the final sale price once a transaction takes place. Remarkably, you have the autonomy to decide the percentage you pay for the ad, which can range from 2% to 100%. The larger the percentage, the higher the likelihood of eBay featuring your listing.
Remember that this percentage encompasses the total price – including the item price, shipping fees, and taxes.
Branding and customization options on Etsy vs eBay
The ability to brand and customize your online storefront can play a crucial role in attracting and retaining customers. Here's a comparison of the customization and branding options offered by Etsy vs eBay.
Etsy
Etsy provides sellers with basic opportunities to establish a brand identity and customize their shop. Etsy sellers can:
Select their shop name
Choose a shop logo
Create a shop banner
Organize their listings into sections
Add shop description and policies.
If sellers opt for an Etsy Plus subscription, they can access further customization options, such as:
Adding a carousel of banners with links to shop sections.
Featuring some of the shop sections.
Overall, the customization options on Etsy are somewhat limited.
eBay
The level of customization on eBay is comparable to Etsy in terms of flexibility. Sellers on eBay can:
Choose a store name
Select a main image and logo
Decide on categories and feature them
Select a marketing banner
Add store description and policies
Include a store video.
The major difference between eBay and Etsy is that eBay allows sellers to customize the layout of individual listings. Sellers can use an HTML template to achieve a completely unique look for their listings. Sellers can either supply their own HTML or utilize a third-party service to purchase a custom listing template.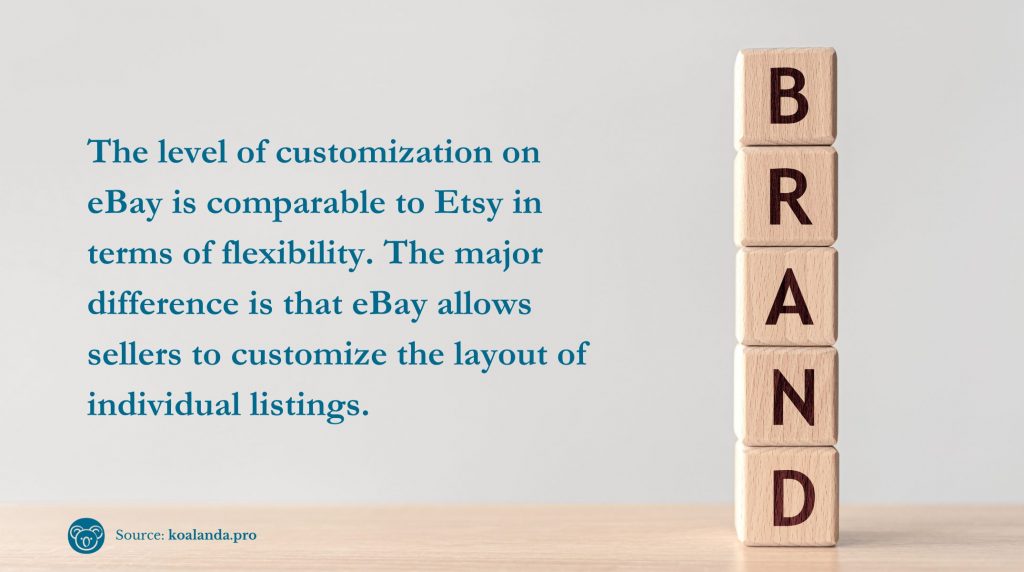 Listing creation and maintenance on Etsy vs eBay
Creating and maintaining product listings is a fundamental aspect of selling on both platforms. Let's see how Etsy and eBay address it.
Etsy
Etsy has established itself as a user-friendly platform, and its listing process is no exception. It offers an easy-to-navigate interface, making it simple for sellers to add new products.
One important feature on Etsy is the Bulk Edit function. This tool allows sellers to modify multiple listings at once, saving time and effort in managing their shop. For instance, you can change the price or quantity of several items in one go, which is particularly useful during sales or stock updates.
One area where Etsy falls short is its lack of a bulk upload feature. This means that, when listing new products, sellers must input each item individually. While this might not be an issue for smaller shops, it can be time-consuming for sellers with a large inventory or those releasing new collections.
eBay
eBay's listing process is somewhat more complex, given the wider variety of items and selling styles the platform accommodates. This can make the platform seem more difficult to use, particularly for new sellers.
Despite this, eBay does offer powerful tools for managing listings. Like Etsy, it has a Bulk Edit feature, enabling sellers to update multiple listings simultaneously. This functionality is helpful for larger sellers or those dealing with high volumes of inventory.
Moreover, eBay also offers a Bulk Create feature. This allows sellers to list multiple new items at once. This significantly increases the speed for those with many items to list, making eBay an attractive choice for larger sellers or those with rapidly changing inventories.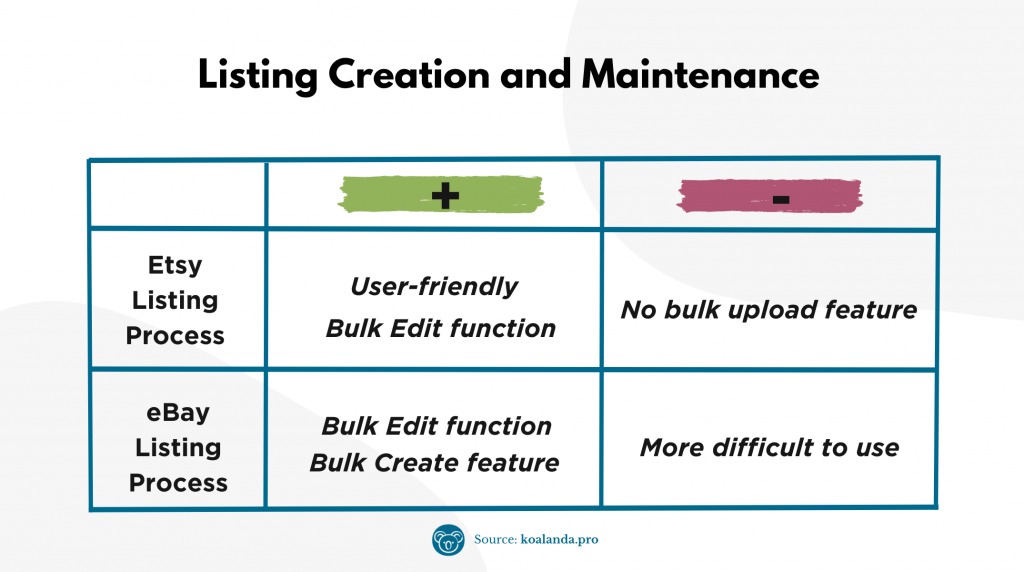 Customer support and seller community on Etsy vs eBay
Etsy
Etsy is known for its seller-oriented customer support. It provides resources like the Etsy Seller Handbook, a comprehensive guide covering everything from SEO tips to managing your finances. For personalized support, Etsy Help Center allows sellers to email or request a phone call from the support team.
Etsy's community is one of its defining features. The Etsy Community space includes forums where sellers can interact, share advice, and discuss a variety of topics.
In 2022 Etsy announced the beginning of a Purchase Protection Program for Sellers. It aims to resolve disputes between buyers and sellers without necessarily taking funds from the seller's account.
Etsy Success Events is an initiative led by Etsy, aiming to educate Etsy sellers on various practical topics related to selling on the platform.
Last but not least, there are numerous independent seller support groups in Facebook, Reddit, and others in which sellers help each other on all kinds of Etsy-related topics.
eBay
eBay also offers a wealth of support for sellers. The eBay Seller Center is a repository of informative articles and guides on topics like shipping, returns, and optimizing listings. For personalized help, eBay's customer service can be reached via phone, live chat, email, and a callback service.
The eBay Community offers forums, groups, and answer centers where sellers can share tips and discuss topics of interest. eBay also hosts a yearly event, eBay Open, that brings sellers together to network and learn about new developments on the platform.
Tools for Etsy vs eBay
Both Etsy and eBay are extremely popular and there are many 3rd party tools that can help you run your business.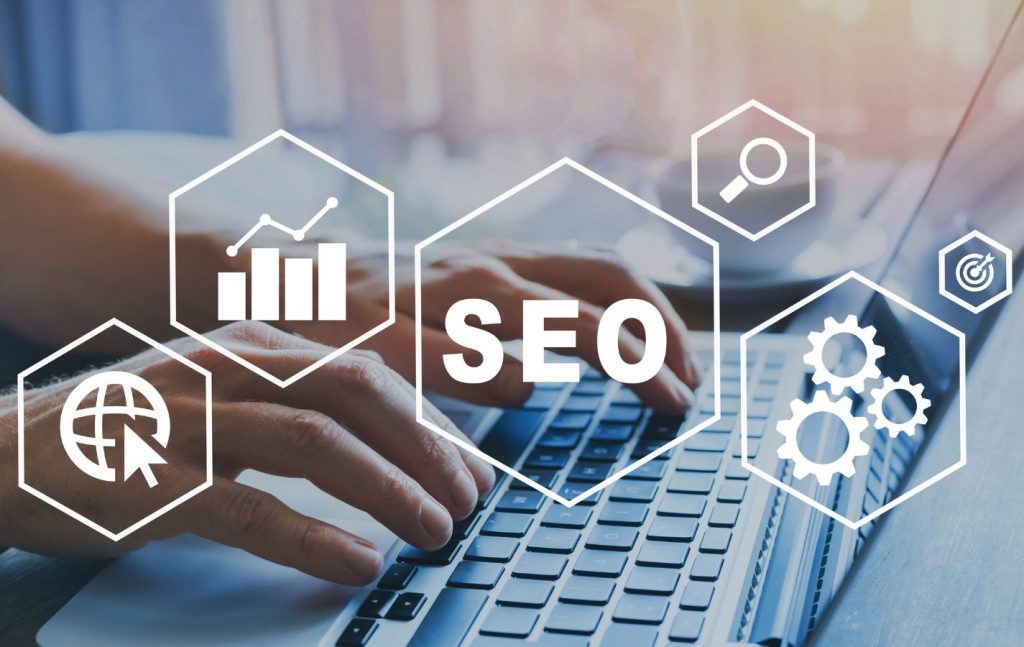 One major advantage of eBay is that it offers a powerful tool for market research called Terapeak. This tool, maintained by eBay itself, ensures the data is as accurate as possible. It includes features for market, product, and keyword research, SEO advice, sales predictions and much more. It's a must-have if you want to thrive in the competitive eBay landscape.
Etsy doesn't offer such a tool to its customers. Koalanda aims to fill this gap. It combines several data sources, including data directly from Etsy, to allow its customers to conduct market research, discover new product niches, optimize their SEO with long-tail keywords, and much more.
Apart from these, there are several tools that work for both Etsy and eBay. Most of them are focused on inventory management and efficient listings of products on the two platforms – some examples are https://multiorders.com and https://www.3dsellers.com/ . Others, like https://www.shipstation.com/ are focused on shipping quickly and easily.
Customer expectations on Etsy vs eBay
The customer expectations on the two platforms are quite different and it is important to understand them before choosing one of them.
Etsy
Item uniqueness: Most customers come to Etsy expecting to find one-of-a-kind, original creations. They value the personal touch, the story behind the product, and the creativity that goes into each item.
Quality: Given the handmade nature of many Etsy items, customers usually expect high-quality products. They understand they're buying directly from creators and often perceive this as a marker of quality and authenticity.
Price: Most customers are willing to pay a higher price as long as the item meets their criteria.
Personal interaction: Etsy buyers often anticipate a higher level of personal interaction with sellers. They appreciate handwritten notes, beautiful packaging, and more.
Processing and delivery Times: As many items are made to order, Etsy customers typically understand and accept longer processing and delivery times. However, clear communication about estimated shipping times remains essential.
Reviews: Most customers realize that they are working directly with a crafter rather than with a big business and are generally more forgiving and understanding of mistakes.
eBay
eBay, being a more extensive and diverse marketplace, fosters a different set of expectations among its users.
Value: eBay customers often seek competitive pricing. They expect to find a wide range of products, from brand new to used items, often at lower prices.
Efficiency: Given the many professional sellers and businesses on eBay, customers often expect efficiency in service. This includes quick response to inquiries, fast shipping times, and easy return processes.
Bargains and Auctions: With its roots in auction-style selling, many eBay customers come looking for bargains and are often willing to participate in bidding wars for items they desire.
Product Information: eBay customers expect detailed product descriptions and specifications, especially for high-value items or collectibles.
Conclusion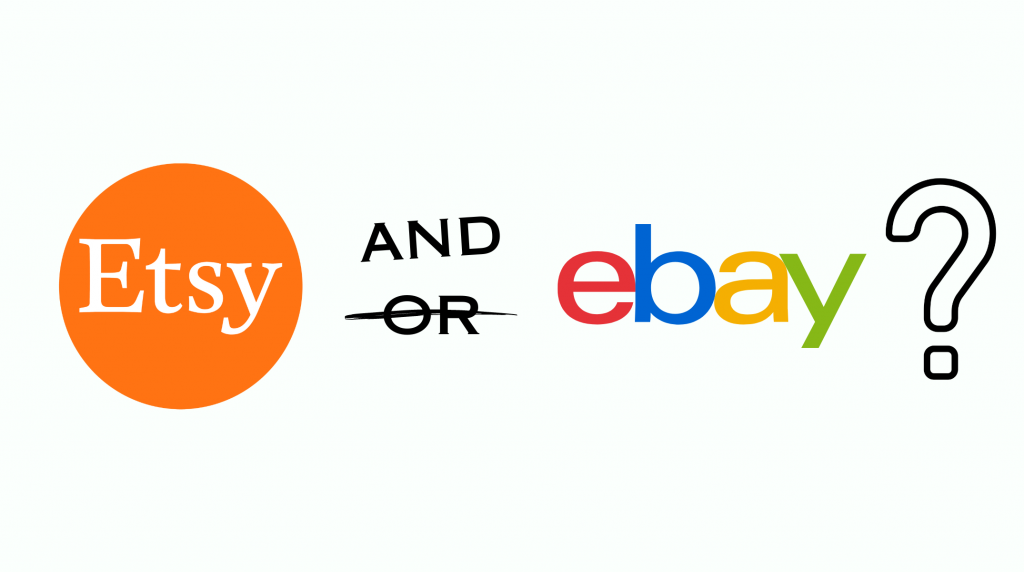 The choice between Etsy and eBay hinges on your individual business goals, your product type, and the customer base you aim to serve. Etsy is a hub for artists and creators selling unique handmade or vintage items, fostering a close-knit community that appreciates individuality and personal interaction. In contrast, eBay is a vast, diverse marketplace designed for a broad spectrum of products, prioritizing speed and affordability. Consider operating on both platforms to tap into their unique strengths and broaden your market. In this ever-evolving world of e-commerce, staying flexible and knowledgeable can help you successfully reach your audience and grow your business. Happy selling!