Etsy is more than just an online marketplace; it's a window into the diverse world of crafts and cultures. With sellers from all corners of the globe, many products on Etsy often carry a unique cultural story and tradition. In this journey "Around the World with Etsy," we'll explore various crafts that highlight the vast array of cultures represented on the platform. Let's take a closer look at the global talents and traditions that make Etsy such a vibrant and varied community.
Asia
Japanese Kintsugi
Kintsugi Sake Bottle from KintsugiDecor
Originating from the philosophy of embracing flaws, Kintsugi is the art of repairing broken pottery with a special golden lacquer. More than just a method of fixing, it emphasizes the beauty in imperfection and signifies the value of resilience. By highlighting the breaks rather than hiding them, Kintsugi turns a damaged piece into a rejuvenated masterpiece.
Balinese Wood Carving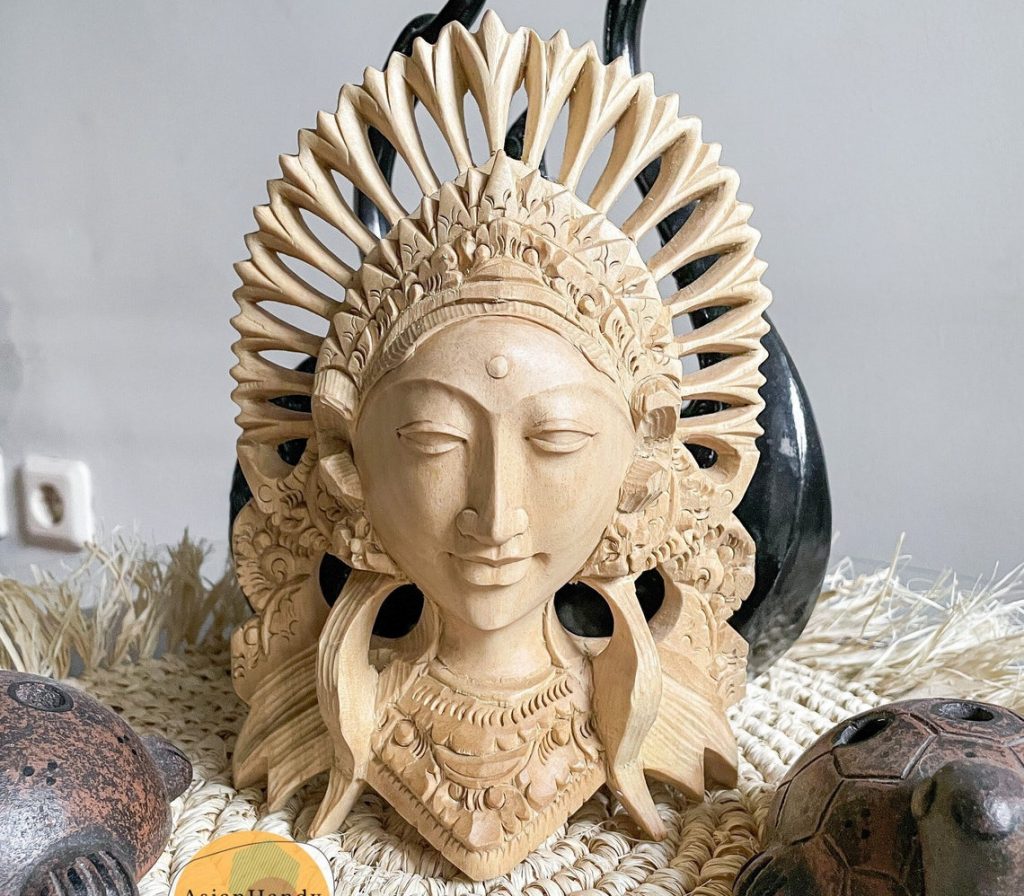 Wooden Balinese Dancer Sculpture from asianhandy
In the heart of Indonesia, Balinese wood carving stands as a symbol of the island's deep spiritual beliefs and traditions. Each piece, meticulously carved, represents stories from Hindu mythology or aspects of daily Balinese life. Often incorporated into temples and homes, these carvings serve both as decorative elements and bearers of cultural significance.
Chinese Cloisonné
Chinese Cloisonne Flower Plate from bestgiftchina
Originating in ancient China, Cloisonné is an intricate art form that involves affixing thin metal wires onto a metal surface to outline designs. These delineated spaces are then filled with colorful enamel powders. After firing to fuse the enamel with the metal, the piece is polished to reveal radiant designs. Marrying meticulous craftsmanship with aesthetic brilliance, Chinese Cloisonné has adorned everything from vases to imperial treasures, standing as a testament to the nation's rich artistic heritage.
Africa
Mud Cloth (Bògòlanfini) from Mali
Bògòlanfini, commonly known as mud cloth, is a traditional Malian textile characterized by its intricate patterns and rich symbolism. Handcrafted primarily by the Bamana people of Mali, the fabric is made by weaving narrow strips of cotton which are then sewn together. The unique designs are created using a meticulous process of applying fermented mud and plant dyes, resulting in contrasting earthy tones. Each pattern carries a specific meaning, often rooted in Bamana history, cosmology, or social values. Beyond its aesthetic appeal, mud cloth stands as a testament to Mali's deep cultural heritage and the skilled craftsmanship of its artisans.
Moroccan Leather Goods
Moroccan Leather Bag from NomadNextdoor
The ancient cities of Morocco, especially Fez, have been long known for their leather craftsmanship. These goods, made from camels, goats, or sheepskins, undergo a traditional tanning process in historic tanneries. Dyed using natural ingredients like saffron, henna, and indigo, the leather is then crafted into bags, shoes, and other products. Each item encapsulates centuries of tradition, artistry, and local savoir-faire.
Tinga Tinga Paintings from Tanzania
Birds Tinga Tinga Painting from ZarraCreationsLTD
Tinga Tinga is a distinctive painting style that emerged in Tanzania during the 1960s, named after its founder, Edward Saidi Tingatinga. Characterized by their vivid and bold colors, these paintings often feature exaggerated, almost cartoonish depictions of wildlife, landscapes, and daily Tanzanian life. The art form utilizes bicycle paint on masonite boards, resulting in a glossy finish that accentuates its bright palette. Over the years, Tinga Tinga has evolved into a collective art movement, with various artists adopting and adapting the style, ensuring its place as a cherished and recognized emblem of Tanzanian artistic expression.
Europe
Spanish Espadrilles
Flat Spanish Espadrilles from WalkHeartEspadrilles
These traditional Spanish shoes have deep roots in regions like Catalonia and the Basque Country. Made with canvas or cotton fabric uppers and a sole crafted from esparto rope, espadrilles are both stylish and comfortable. Historically worn by peasants due to their durability and cheap materials, these shoes have transcended their humble beginnings. Contemporary fashion has embraced and elevated them, but their traditional crafting methods remain largely unchanged, a nod to their authentic Spanish origin.
Irish Aran Sweaters
Traditional Aran Sweater from KateIrishTweedStore
Hailing from the Aran Islands off the west coast of Ireland, Aran sweaters are recognizable by their intricate stitch patterns. Each design, be it cable, diamond, or trellis, has its own special meaning, often derived from local customs, traditions, or Celtic art forms. Crafted primarily from undyed wool, these sweaters originally provided warmth and water-resistance to the island's fishermen and farmers. Today, they stand as symbols of Irish artisanship, resonating with the tales and landscapes of the isles from which they come.
Greek Ceramics
Greek Plate from AncientGreekCeramic
With a legacy tracing back to ancient times, Greek ceramics provide a fascinating glimpse into the tales, beliefs, and lifestyles of ancient Greece. From the simple geometric designs of early periods to the detailed, narrative-rich motifs of the classical age, these ceramics had both utilitarian and ceremonial uses. Vessels like vases, amphoras, and kylixes frequently showcased scenes from mythology, athletics, or daily Grecian life, rendered with remarkable precision. Today's artisans continue this venerable tradition, combining time-tested techniques with modern sensibilities, preserving the craft's rich heritage.
Americas
Native American Dreamcatchers
Wall Hanging Dreamcatcher from DreamersStoreVN
Originating from the Ojibwe (or Chippewa) people of North America, dreamcatchers were traditionally used as talismans to protect sleeping people from bad dreams and nightmares. Comprising a circular frame woven into a net or web, adorned with feathers and beads, dreamcatchers were believed to trap negative dreams and let only positive ones pass through. Beyond its spiritual significance, the dreamcatcher represents a broader Native American commitment to craftsmanship, with each tribe having its own variations of materials and designs.
Wayuu Mochila Bags from Colombia
Wayuu Colombian Bag from Comolulo
Renowned for their vibrant colors and intricate patterns, Wayuu Mochila bags are the handcrafted treasures of the Wayuu indigenous people from the Guajira Peninsula in Colombia. Each bag is a testament to the artistry and dedication of its maker, as a single bag can take several weeks to months to weave, made entirely from cotton thread. Beyond their aesthetic appeal, these bags carry deep cultural and symbolic meanings, with each pattern telling a story or representing elements from the Wayuu's daily life and environment. As these bags have gained global recognition, they not only serve as a source of livelihood for the Wayuu artisans but also as ambassadors of their rich heritage and traditions.
Mexican Alebrijes
Oaxacan Coyote from MexicanFolkArtShop
These fantastical creatures, often bright and multicolored, are handcrafted from paper, wood, or copal tree wood in Mexico. Initially conceptualized in a dream by artist Pedro Linares in the 1930s, alebrijes have since become emblematic of Mexican folk art. Combining elements of different animals, these creations are painted with intricate patterns and vibrant hues. Beyond their visual appeal, alebrijes represent the limitless bounds of imagination and the rich tapestry of Mexico's artistic heritage.
Oceania
Maori Carvings
Maori Bone Necklace from TuwharetoaBone
Originating from the indigenous Maori of New Zealand, intricate wood and bone carvings are integral to their cultural heritage. These works often depict ancestral stories and mythological figures, with the spiral being a dominant motif. Whether in the form of a pendant, known as "hei-tiki", or as part of a meeting house's architecture, these carvings are a powerful symbol of lineage and identity.
Tapa Cloth Crafting
Tapa Print Cotton Fabric from FABRICHAWAII
Common to several Pacific islands, including Fiji, Samoa, and Tonga, tapa cloth is made from the inner bark of the paper mulberry tree. The bark is soaked, beaten into thin sheets, and then decorated with geometric patterns or symbolic motifs. Traditionally, natural dyes are used, creating rich browns, blacks, and reds. This cloth serves various purposes, from ceremonial wear to wall hangings, encapsulating the region's communal spirit and reverence for nature.
Australian Aboriginal Dot Paintings
Aboriginal Art Print from EricsArtBoutique
A signature art form of the Indigenous Australians, dot paintings are more than just aesthetic creations. Using natural earth pigments, artists create intricate patterns of dots on bark, canvas, or even rock surfaces. Each painting is a narrative, telling stories of ancestral spirits, sacred landscapes, and the Dreamtime – the Aboriginal understanding of the world's creation and its spiritual essence.
Middle East
Turkish Kilim Rugs
Turkish Rug from OrientalDecorRug
Unlike the plush Persian carpets, Kilim rugs are flat-woven tapestries that are as rich in symbolism as they are in aesthetics. Originating from the nomadic cultures of Anatolia, these rugs often carry geometric patterns, each with its own tale and meaning. From motifs symbolizing motherhood and fertility to those depicting protection from the evil eye, every Kilim rug tells a story. The weaving technique, often passed down through generations, involves interweaving colored wefts and warps, ensuring not just vivid designs but also a durable piece of art.
Persian Miniature Paintings
Traditional Persian Prints from FirenzePrints
An art form that began in the 13th century, Persian miniature paintings are a visual delight. Characterized by their intricate details, these paintings often depict tales from epic poetry, historical events, or scenes of Persian court life. Rich in symbolism and allegory, the art is more than just visual narration; it's a reflection of the Persian soul. Artists utilize bright and pure colors, often adorned with gold, and the subjects, despite their delicate portrayal, carry a profound depth and dimension.
Syrian Inlaid Woodwork
Syrian Handmade Jewelry Wood Box from Syriantiques
Originating from ancient cities like Damascus, this craft highlights Syria's deep artistic roots. Using "intarsia," artisans embed mother-of-pearl and bone into wood, creating captivating geometric patterns. These items, from furniture to jewelry boxes, blend functionality with the region's rich heritage. The contrast of shimmering inlays against warm wood tells a story of Syria's timeless culture and craftsmanship.
Discovering New Product Niches on Etsy
Curious about the diverse world of Etsy products? Dive deeper and uncover hidden gems with Koalanda's Etsy Product Research Tools. Designed to help you navigate the vast marketplace, these tools enable you to pinpoint new and unique product niches that can set your Etsy store apart.
Conclusion
In today's world, traditional crafts are meeting modern tastes. This could be a tricky spot, but they're not losing their roots. Instead, they're mixing old ways with new ideas, making things that everyone, everywhere can love.
Etsy plays a big part in this. The platform gives artisans a place to share their work with the world. It helps keep traditions alive while introducing them to new people.
So, while things are changing, it's for the better. Crafts are finding new fans, and old methods are getting a fresh twist. It's all about celebrating creativity, and Etsy is right at the heart of it.