With more than 6 million active sellers and over 90 million active buyers, Etsy has become the premier online marketplace for handmade and vintage items. As the platform continues to grow in sales, shops, and buyers, many sellers may assume that their sales will automatically increase too. However, the reality is that the competition in the platform is growing rapidly. Sellers need to follow some fundamental principles to succeed and to stand out from their competitors.
In this comprehensive guide, we will cover the essential strategies that Etsy sellers should follow to increase their sales and succeed on the platform. From conducting thorough market research to optimizing your keywords, motivating your customers to buy to turning them into repeat customers, we've got you covered.
So, if you want to take advantage of Etsy's growth and maximize your sales, read on for a step-by-step guide on how to increase your sales and build a thriving business on the platform.
Offer the Right Products
Before you even think about optimizing your Etsy shop for success, you need to decide what you're going to sell. This crucial first step is often overlooked in many guides that focus solely on search engine optimization (What is Etsy SEO?). However, without a solid product strategy in place, even the best Etsy SEO tactics won't be enough to make your Etsy shop successful. In this section, we'll show you how to choose the right products through thorough market research and analysis. Let's get started!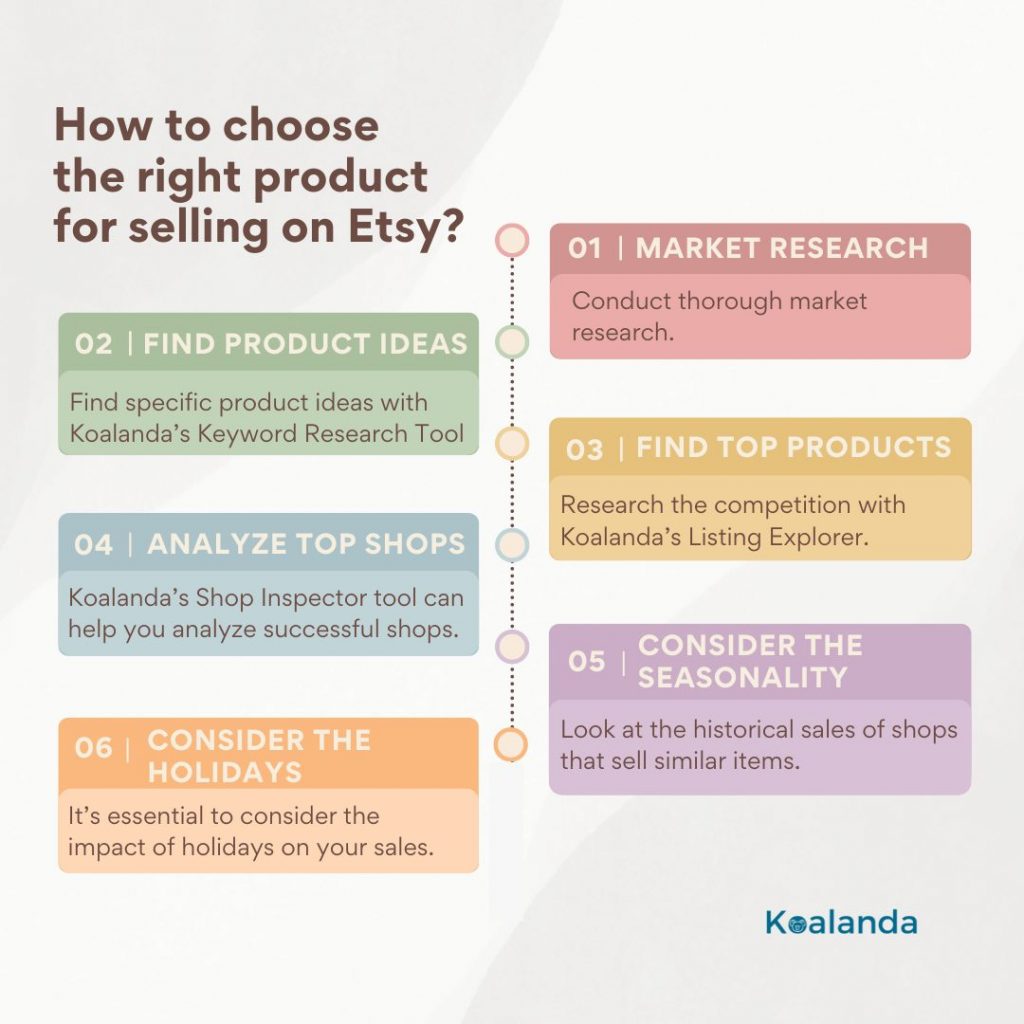 Conduct thorough market research
To succeed on Etsy, you need to sell products that are in demand. Ideally, you can find a niche that is not oversaturated. But if that's not possible, finding a niche in which you can offer a competitive product is the next best thing.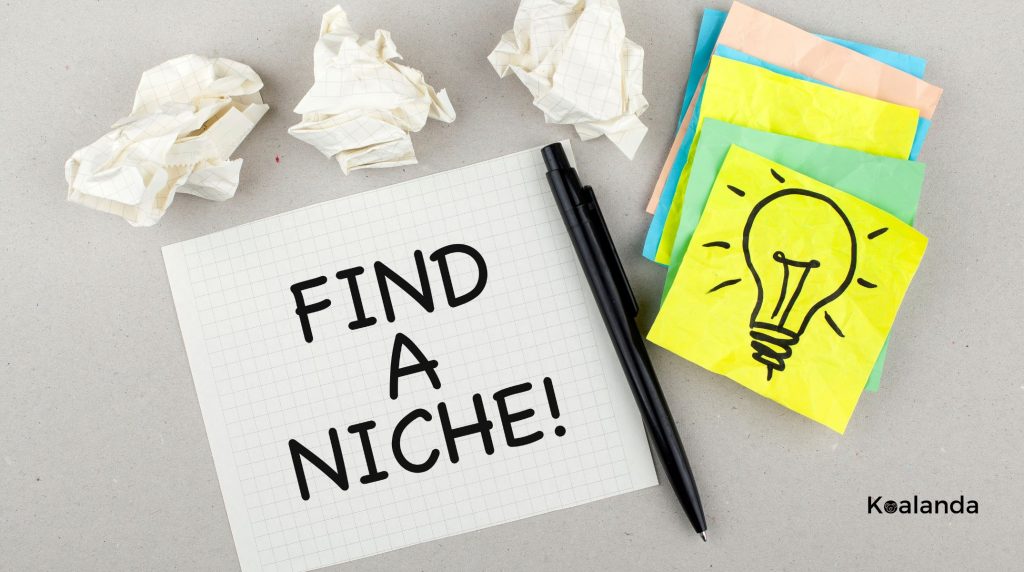 The first step to achieving Etsy success is conducting thorough market and product research. You can start by searching and browsing on Etsy itself. However, this manual approach limits the amount of data you can see. To conduct unbiased research and gain a more comprehensive understanding of the market, you need a tool to help you aggregate and analyze vast amounts of information. One such tool is Koalanda.
With Koalanda, you can see high-level Etsy market trends, search for the top-selling Etsy products for a specific keyword, and analyze the performance of shops that sell a particular product. This data can help you make informed decisions about what products to offer and which niches to target.
Find product ideas with Koalanda's Keyword Research Tool
Once you have a general idea of the niche you want to target, it's time to find specific product ideas. One of the best tools for this task is Koalanda's Keyword Research Tool. Here's how to use it:
Start by typing a general keyword that will give you a broad set of ideas and suggestions.
Narrow down the results by searching for more specific keywords.
Use two essential metrics to make a decision if a keyword is worth it: Search Score and Competition.

The Search Score measures how often buyers search for this keyword and engage with the search results. The higher the score, the better the keyword's potential demand.
The Competition measures how many listings on Etsy are trying to rank for this keyword. The lower the competition, the better the opportunity for your shop to rank highly in the search results.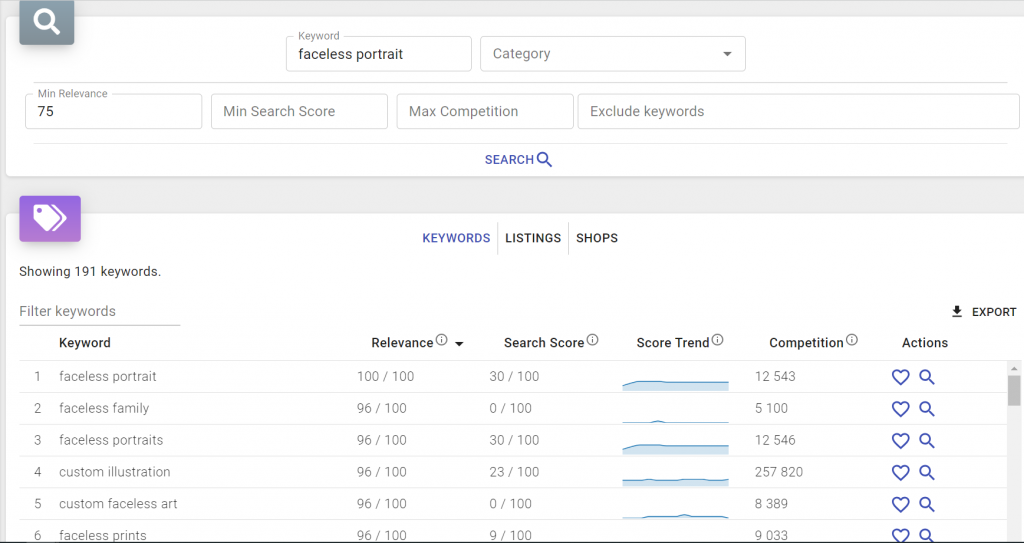 This way you can find product ideas that have a high probability of selling well. You may be able to identify niches that may be profitable, giving you an edge in a highly competitive market.
Find top products with Koalanda's Listing Explorer
After using Koalanda's Keyword Research Tool to find potential product ideas, the next step is to research the competition and see what's already selling well on Etsy. This is where Koalanda's Listing Explorer comes in.
The Listing Explorer allows you to search for top-performing listings on Etsy by applying various filters and sorting options. Here's how to use the tool effectively:
After finding a good keyword, check if there are products that actually sell for it. The Listing Explorer will show you the top-selling products in your niche based on number of sales.
Analyze the top products and decide whether you can offer something more to compete with them. This doesn't have to be price. It might be better quality, more customization options, faster processing, or other unique features that stand out from the competition.
Try to figure out why these specific products are selling so well. Is it simply due to a good supply/demand ratio, or is there something more to it? Look at the product reviews to see what makes them appealing to buyers.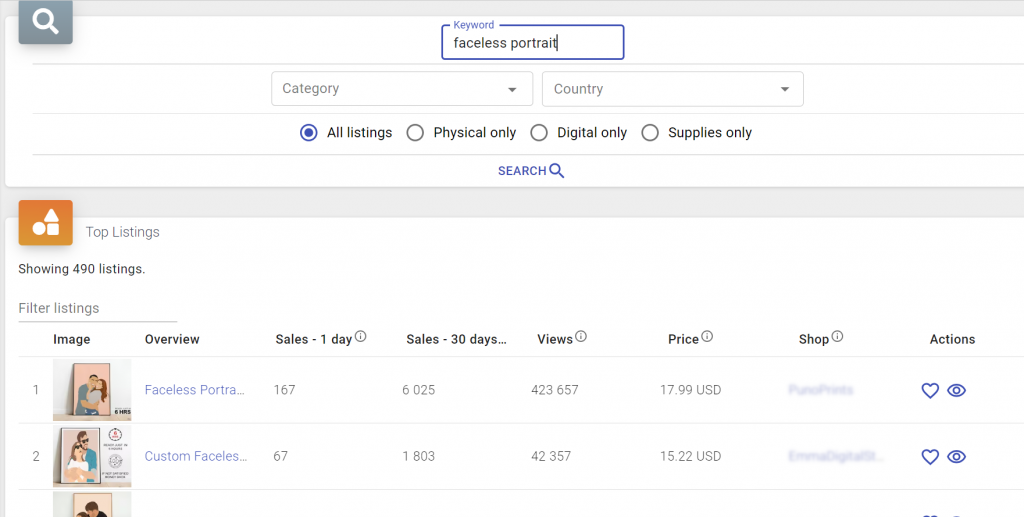 Analyze top shops in the niche with Koalanda's Shop Inspector
When researching for products on Etsy, it's essential to understand that successful sales cannot be attributed solely to the listing itself. Etsy's ranking algorithm is complex and takes into account many factors, including shop-level information.
For instance, a listing from a shop with no proper policies or shop information will never be featured, no matter how perfect the listing itself may be. Therefore, it's important to take into account the overall shop quality and reputation when analyzing successful sales in your niche.
Koalanda's Shop Inspector tool can help you analyze successful shops and gain insights into what's working for them. With this tool you can analyze various statistics for a given shop, including its price range, sales trends, top selling products, and more.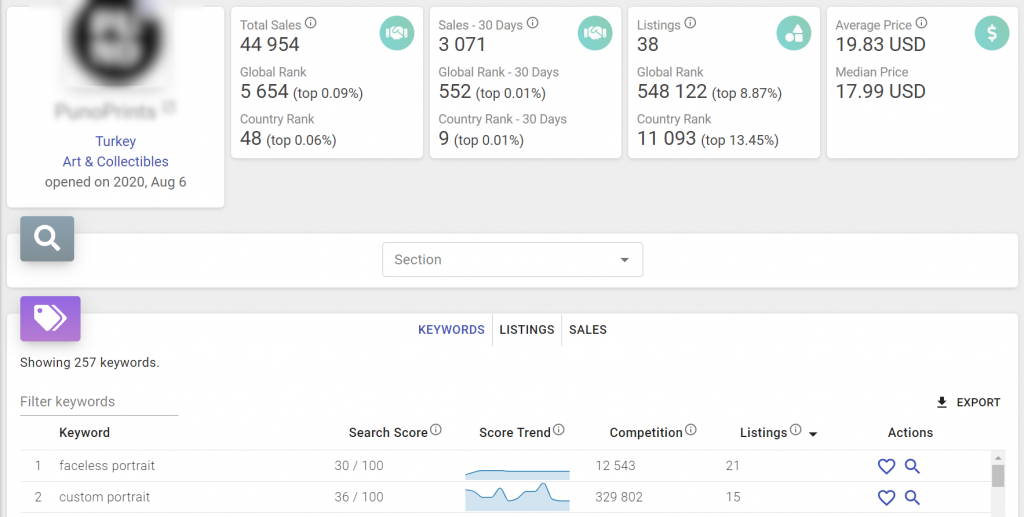 Take into account the seasonality of the products
To maximize your sales potential on Etsy, it's important to consider the seasonality of the products you sell. Many products are seasonal, and sales patterns can vary significantly depending on the time of year. To determine the best time to list your products, look at the historical sales of shops that sell similar items. Analyzing this data can help you identify the seasonality traits of your products and list them at the right time.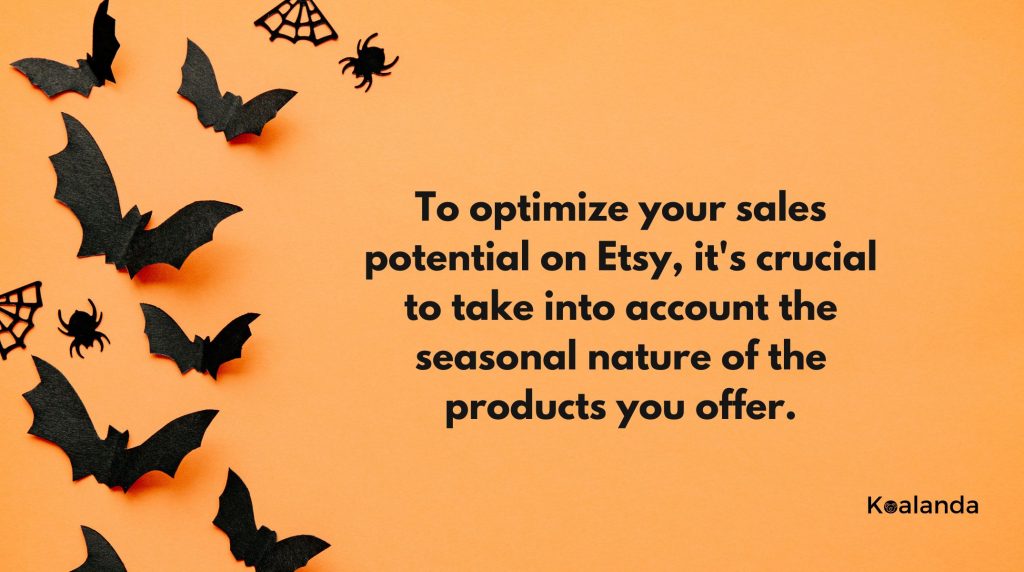 Take into account the holidays
When choosing products to sell on Etsy, it's essential to consider the impact of holidays on your sales. Certain products are very specific and are sold only during several weeks before specific holidays.
If you decide to sell such products, it's crucial to be prepared for a short sharp peak of sales before the holiday and little to no sales in the rest of the year. While these products can be lucrative during the holiday season, it's essential to have a strategy for the rest of the year to maintain sales and revenue.
A good example of this is Halloween. You are unlikely to sell Halloween costumes all year round and you will most probably have to branch out into other product categories to diversify your offerings.
Earn the trust of your customers
Before focusing on SEO, it's crucial to work on establishing trust with your potential customers on Etsy. This involves considering the overall look of your shop, the quality of your listings, and ensuring that your branding is consistent and professional. High-quality photographs and descriptions that are free from grammar errors are also essential in building trust and converting visitors into buyers. Without establishing trust, SEO efforts will be futile.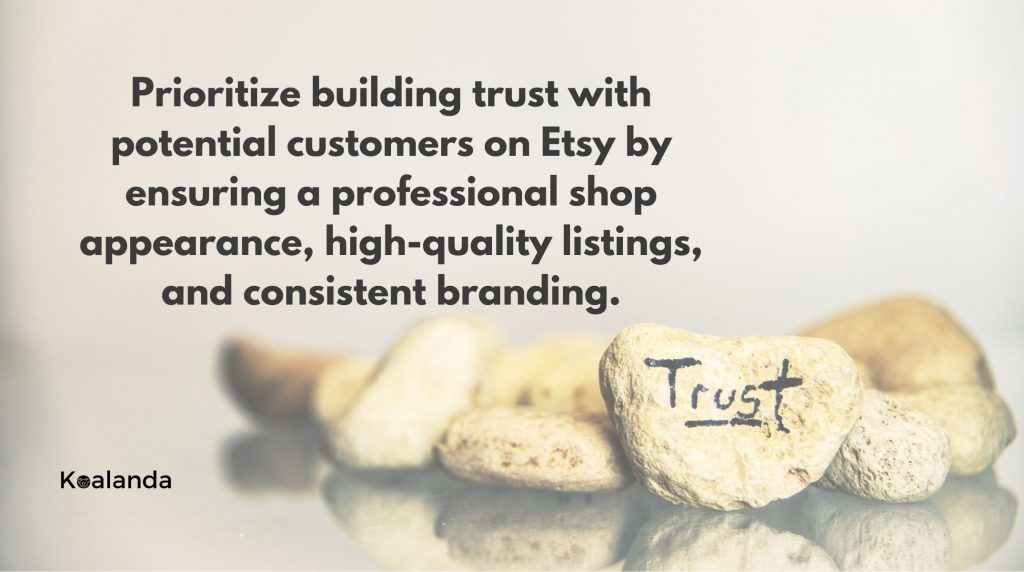 Make sure your photos look professional
On Etsy, visuals have the greatest impact on purchasing decisions, according to a study among Etsy users. Product images are even more important than pricing, highlighting the importance of high-quality images in building trust and converting visitors into buyers.
If you're unable to take good photos yourself, consider hiring a professional photographer. It's also important to include diverse images of your product, such as on a white background, with zoom-in detail, in real-life settings, and from various angles. By doing so, you'll provide potential buyers with a comprehensive view of your product and increase the likelihood of a purchase.
Include detailed information about your products
Providing potential customers with enough information about your products is crucial in establishing trust and increasing the chances for a purchase. To ensure that customers feel certain of exactly what they're buying, try to anticipate their questions and include the answers in your listing descriptions. This means providing detailed information about the product's size, materials, and any other relevant features.
It's also worth noting that Etsy has started using listing descriptions in their search rankings. This means that including relevant keywords in your descriptions can help your products appear higher in search results and increase their visibility. By providing detailed information and optimizing your listing descriptions, you'll be well-positioned to establish trust with potential customers and increase sales on Etsy.
Write your shop policies
When it comes to winning the trust of your customers on Etsy, writing clear and concise shop policies is crucial. Policies related to returns and exchanges, cancellations, and privacy are more important than you might think.
Allowing returns is essential in establishing trust and increasing sales on Etsy. While you may be hesitant to allow returns, the reality is that you'll miss out on many more sales and receive more negative reviews if you don't accept returns compared to the number of actual returns that you'll need to accept.
Have consistent branding
Having consistent branding is key to winning the trust of potential customers on Etsy. One way to establish consistent branding is to create a captivating shop banner that showcases your brand logo and messaging.
In addition to the shop banner, it's important to fill in your shop info with a good photo of yourself. This helps to add a personal touch to your shop and establish a connection with potential customers.
By prioritizing consistent branding, you'll establish a clear and cohesive identity for your shop, making it easier for potential customers to trust and engage with your brand. This can help increase sales and establish a loyal customer base on Etsy.
Pay attention to customer reviews
Customer reviews are crucial in building trust and establishing credibility on Etsy. Studies show that most customers read shop reviews left by previous customers before making a purchase.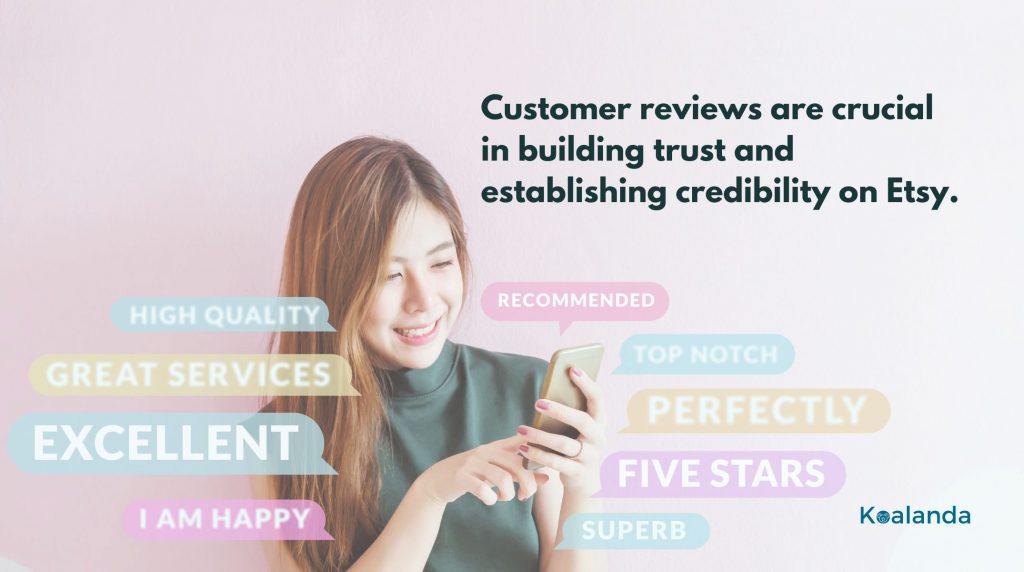 To build a strong reputation on Etsy, it's important to prioritize gaining as many 5-star reviews as possible. Providing excellent customer service, responding promptly to customer inquiries, and ensuring that customers are satisfied with their purchases can help increase the likelihood of positive reviews.
However, negative reviews are inevitable, and it's essential to handle them with grace. It's important never to be rude in a response to a negative review, no matter how unreasonable the reason may seem. By responding professionally and addressing any issues raised in a negative review, you can demonstrate your commitment to customer satisfaction and establish trust with potential customers.
Communicate to your customers efficiently
Effective communication with your customers is crucial in winning their trust and establishing loyalty on Etsy. When purchasing a custom or handmade product, customers are looking for a personalized experience that sets you apart from your competitors.
To make this experience memorable, it's important to spend time and effort interacting and communicating with your customers. This means answering customer messages promptly and using correct English and good grammar to convey professionalism and attention to detail. Effective communication is so important that Etsy has even included it in its Star Seller requirements.
Reach as many potential customers as possible
Once you've conducted thorough market research, optimized your listings, and established trust with potential customers, it's time to focus on reaching as many potential customers as possible. There are two guaranteed ways that will let you achieve this.
Optimize your keywords
Optimizing your keywords is crucial in ensuring that customers can find your listings on Etsy. As mentioned earlier, using Koalanda's Keyword Tool can help you find good keywords to use in your listings.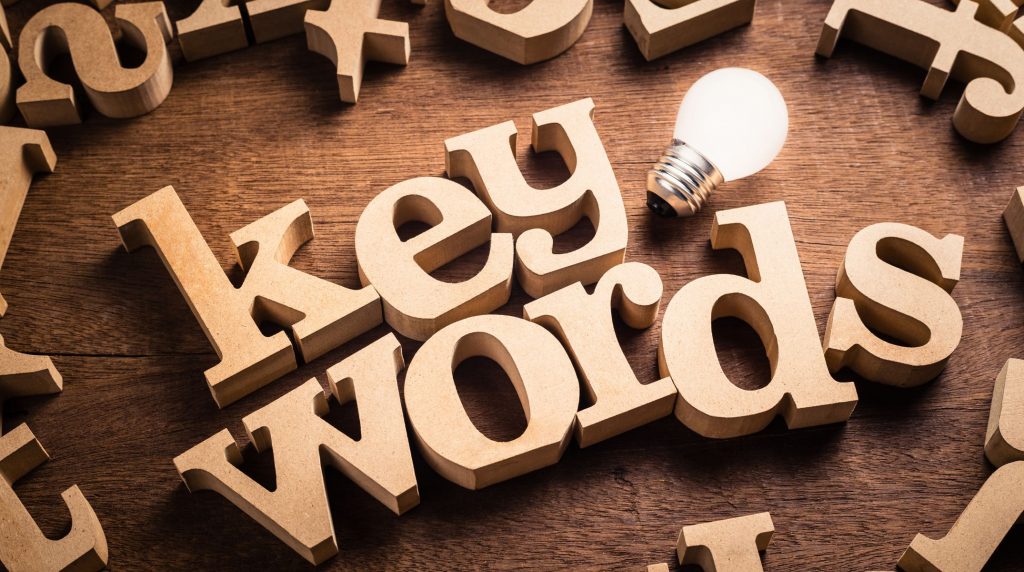 To optimize your keywords, make sure to write accurate and descriptive titles that include your most important keywords. Cast a wide net of related keywords by using all 13 tags available to you, and craft detailed and helpful descriptions that incorporate your keywords in a natural and informative way. By optimizing your keywords, you can increase the visibility of your listings and reach a wider audience of potential customers on Etsy.
Experiment with Etsy ads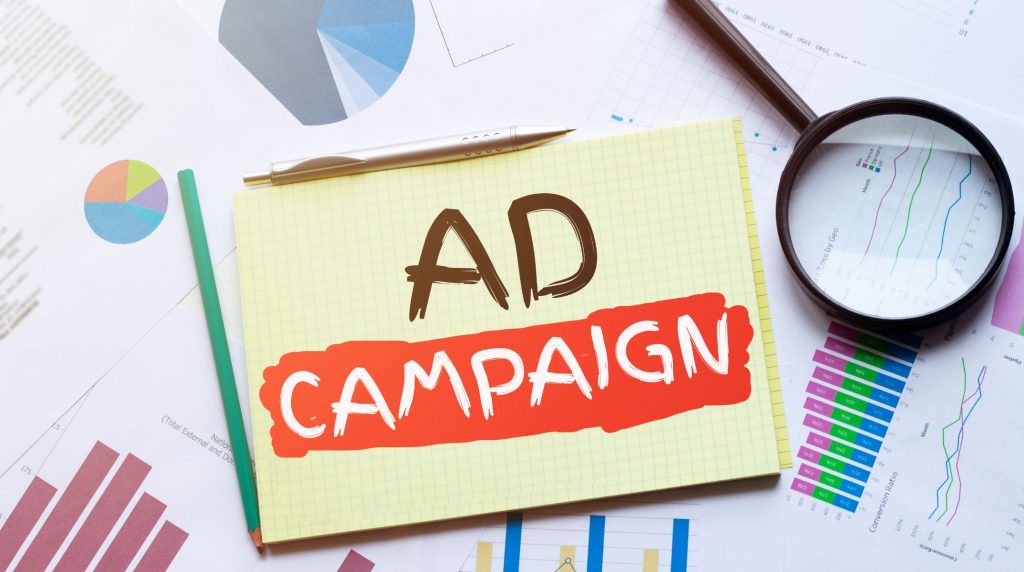 While having good SEO can certainly help your listings reach a wider audience, using Etsy ads can be an effective way to quickly reach customers on the platform. Experimenting with different approaches to Etsy ads can help you find the right strategy for your shop, one that maximizes your ad spend and reaches potential customers with a high likelihood of making a purchase. By optimizing your use of Etsy ads and focusing on ROI, you can increase the visibility of your shop and ultimately drive more sales on the platform.
Motivate your customers to buy
When it comes to making sales on Etsy, sometimes a little extra incentive is needed to motivate potential customers to make a purchase. This is where discounts and promotions can be especially helpful, providing the final nudge that customers need to place an order. In this section, we'll explore various strategies for using discounts, promotions, and other incentives to motivate your customers to buy.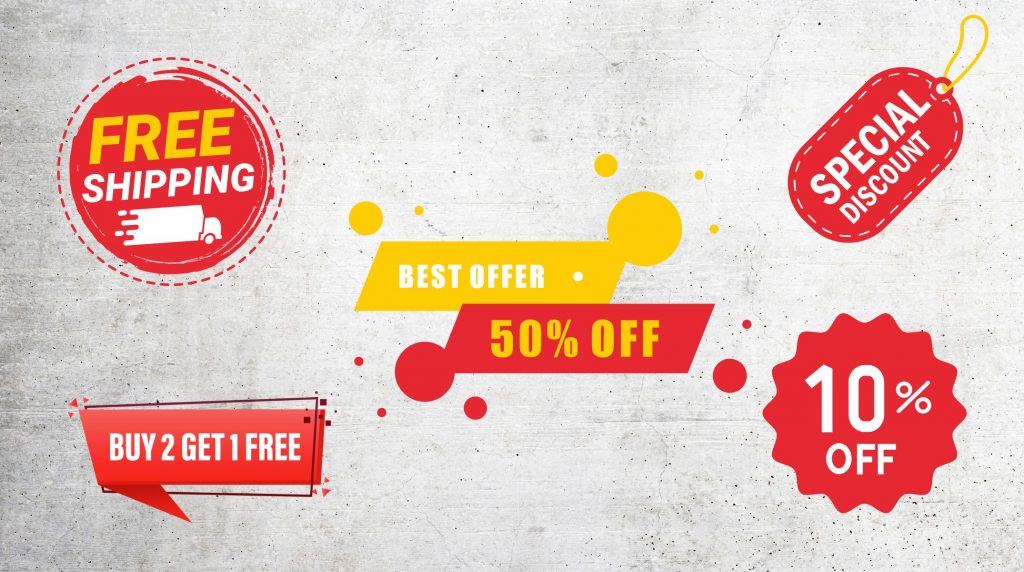 Understand the real purpose of discounts
Discounts are often misunderstood by sellers. Some sellers view discounts as a loss of potential profit. However, it's important to understand that the real purpose of discounts is to encourage buyers to make a purchase that they might not have otherwise made. From the seller's perspective, it's better to make a sale with a lower profit margin than to not make a sale at all.
Motivate customers to buy more items
While discounts can be effective in motivating customers to make a purchase, they can also be used in combination with other promotions to encourage customers to buy more items. By bundling several items together and offering them at a discount, or offering a buy-2-get-3 deal, sellers can increase the total amount of items purchased and potentially even increase their profit margin.
Offer free or cheap shipping
In addition to discounts and promotions, offering free or cheap shipping is another effective way to motivate customers to buy. Studies have shown that high shipping costs are one of the main reasons why customers abandon their shopping carts. To avoid this, sellers can offer free shipping or try to keep shipping costs as low as possible, even if it means incorporating some of the shipping costs into the item price. By doing so, customers are more likely to complete their purchases and have a positive shopping experience.
Track and measure your promotions
It's important to track and measure the effectiveness of your promotions to ensure that they're providing a positive ROI for your business. While discounts and promotions can be effective tools for driving sales, they can also eat into your profit margins if not used wisely. By tracking the performance of your promotions, you can identify what works and what doesn't and adjust your strategy accordingly.
Turn your customers into repeat customers
Building a loyal customer base is crucial for any business, and this is particularly true for sellers on Etsy. By turning your customers into repeat customers, you can create a stable source of income and reduce your marketing and acquisition costs. In this section, we'll explore some strategies for building a loyal clientele on Etsy and making your customers return to your shop again and again.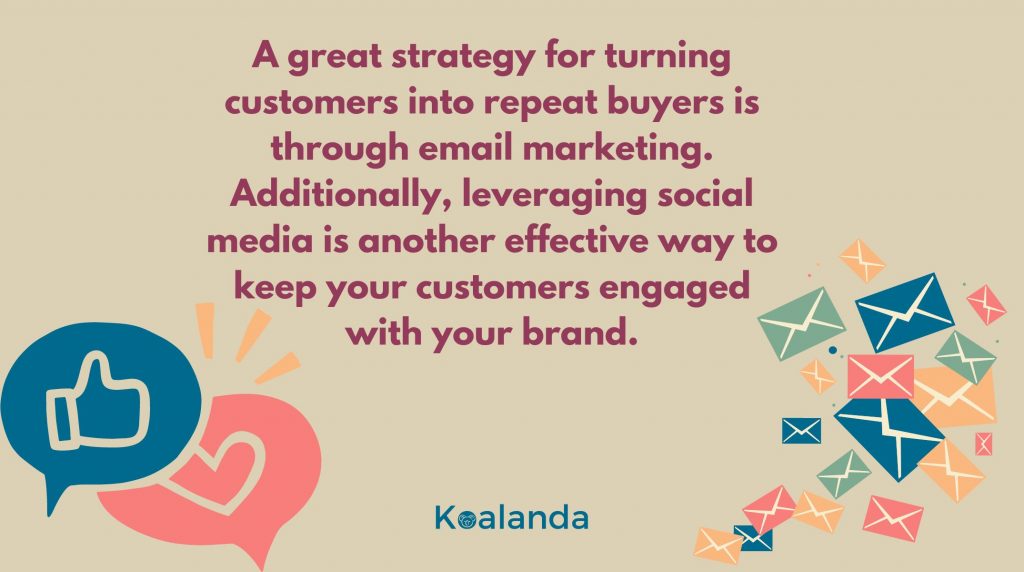 Use email marketing
One effective way to turn customers into repeat customers is by using email marketing. By creating a strategy to gradually build an email list of interested buyers, you can keep them informed of your new products, sales, and promotions. However, building an email list takes time, so be patient and focus on providing value to your subscribers. With a targeted and personalized approach, you can increase the likelihood of customers returning to your shop.
Use social media
In addition to email marketing, social media is another powerful tool to keep your customers engaged with your brand. Building a recognizable brand solely on Etsy can be challenging. By having a presence on social media platforms such as Facebook or Instagram, you can reach a wider audience and remind your customers of your existence on a regular basis. Encourage your customers to follow your social media pages and share your business with their family and friends. This can also help you gain new customers and increase your brand visibility.
Make customers feel they are special
One way to build customer loyalty is to make them feel special. You can do this in a variety of ways that don't necessarily require a big budget. A personalized touch can go a long way, such as adding a handwritten thank-you note or wrapping their purchase nicely. Additionally, you can offer them a gift voucher or personal discount code for future purchases. These small gestures can leave a lasting impression on your customers and encourage them to come back.
Evolve and adapt
To be successful on Etsy, you need to be constantly evolving and adapting to the changing market. It's not enough to simply set up your shop and make a few changes every once in a while. Instead, you need to be actively engaged in the process and willing to make the necessary adjustments to ensure that your shop is always up-to-date, optimized, and efficient. In this section, we'll discuss some key strategies for maintaining and improving your Etsy business over the long term.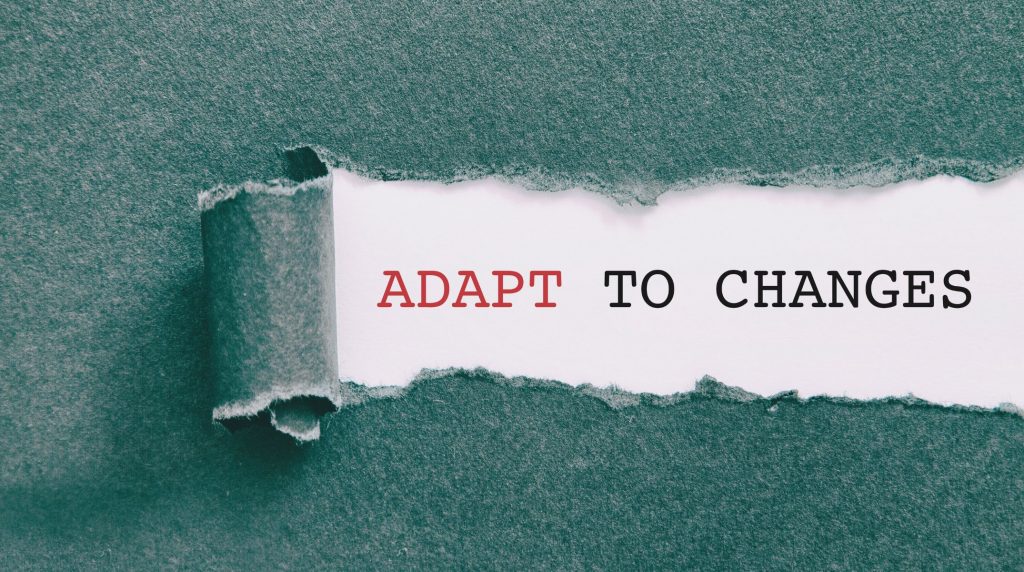 Keep track of the changes to Etsy's search algorithm
Etsy's algorithm is constantly evolving, and it's important to stay up-to-date with any changes that may impact your shop's visibility and sales. A major change in the algorithm can mean that your listings are no longer being seen by potential buyers. For example, when Etsy announced that it would start taking listing descriptions into account for search rankings, many sellers had to go back and update their descriptions to stay competitive. Keep track of any changes to the algorithm and be prepared to adapt your listings accordingly. This may involve optimizing your SEO, changing your product offerings, or updating your shop policies. By staying on top of changes to the algorithm, you can continue to grow your business and stay competitive on the platform.
Make use of the holidays
It's important to make the most out of annual holidays and events, such as Black Friday and Christmas. These holidays present a significant opportunity to boost your sales by offering special promotions or discounts to your customers. You can also use holiday-themed product listings to attract customers and make your shop stand out from the competition. Keep in mind that the holiday shopping season usually starts earlier every year, so plan your promotions and marketing strategy in advance to get the most out of these opportunities. With the right approach, holiday sales and promotions can help you generate more revenue and build a loyal customer base.
Look for new keyword and product trends
It's important to stay up-to-date with the latest keyword and product trends on Etsy. By doing so, you can ensure that your listings are optimized to reach the right audience. Koalanda's Keyword Explorer and Listing Explorer are two tools that can help you achieve this. The Keyword Explorer allows you to discover new keywords that are trending on Etsy, while the Listing Explorer enables you to analyze the top-performing listings in your niche. By using these tools, you can stay ahead of the game and optimize your listings for maximum visibility and sales.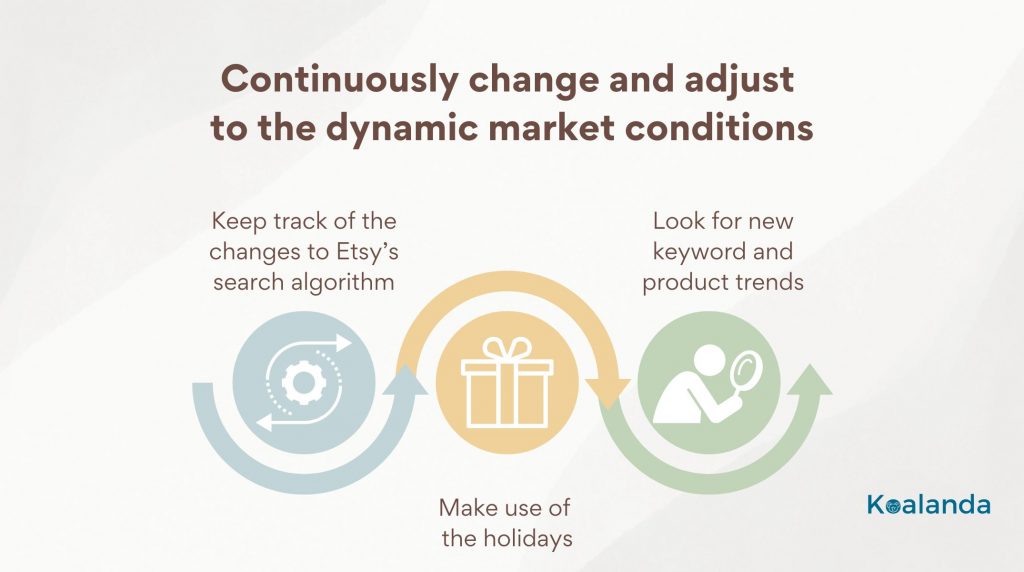 Conclusion
In conclusion, running a successful Etsy shop requires constant attention, research, and adaptation to changes in the marketplace. It starts with finding the right products, optimizing your listings, and building trust with your customers. Utilizing email marketing, social media, and special promotions can help keep your customers engaged and loyal. Keeping track of changes to Etsy's algorithm and following trends can also give you an edge over your competition. With the right approach and tools, you can build a thriving Etsy business that will bring you both financial success and creative fulfillment.